A residential project in Sofia with prices from € 39,000 to € 43,000 for 1BR (one-bedroom) apartment and from € 61,000 to € 68,000 for 2BR (two-bedroom) apartment.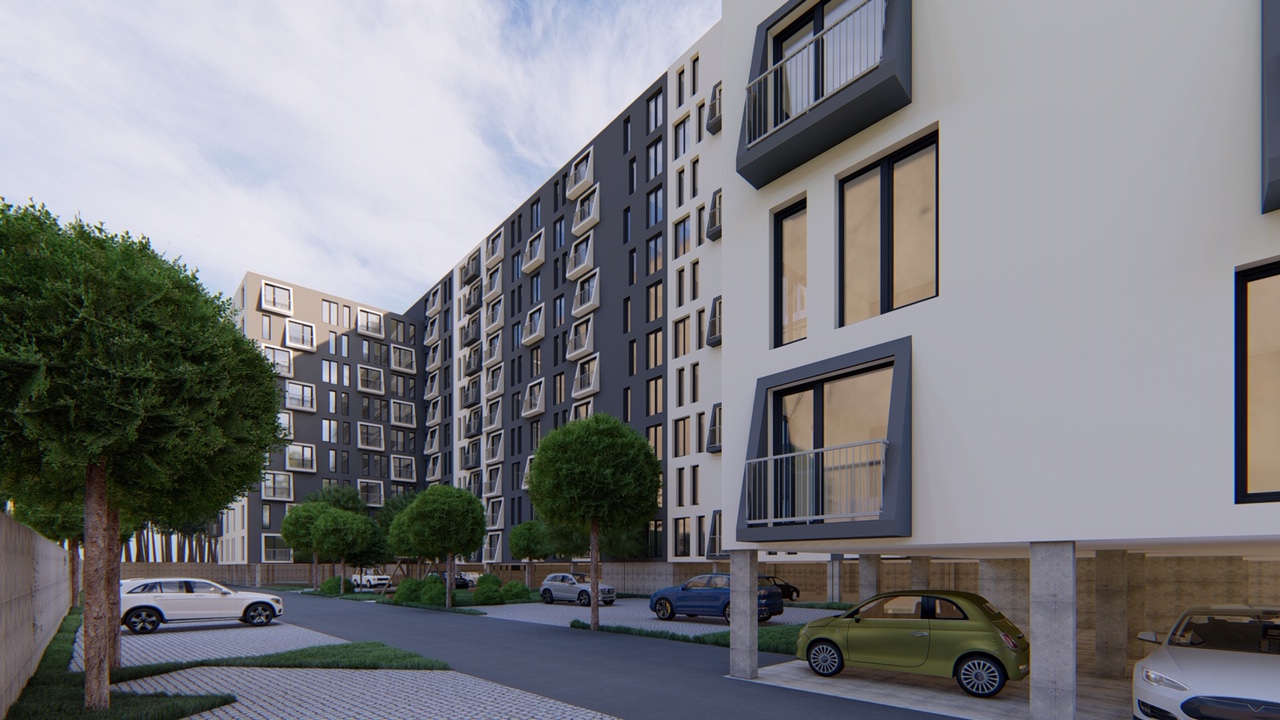 There is no mistake, it is located in Sofia and the location is super promising, it is located next to Druzhba Lake (Druzhba 1), which in itself is a park area, and 11 minutes' walk (900 m.) from Druzhba Metro Station. There is a bus stop in the close proximity.
If you are not familiar with the district of Druzhba and the development of Eastern Sofia, you may be surprised to learn that:
Druzhba is not a bad neighborhood, quite the opposite!  Luxury residential buildings are currently being built there (for example, the ARTEKS project, etc.).
Developed infrastructure and convenient transport – you can reach the center or other office areas conveniently and quickly by Metro.
Park and many playgrounds – you will not have to waste time traveling to have a walk with children or friends.
Schools and kindergartens – if you still don't need them, sooner or later this will be a top priority.
Grocery chains and small neighborhood stores – your favorite stores are there and you won't have to shop where you don't like to.
And last but not least, one of the most significant reasons for the development of Druzhba besides the mero is the area for skyscrapers on the other side of blvd. Tsarigradsko Shosse – the tall office building Capital Fort, part of the business park – Sofia Capital City.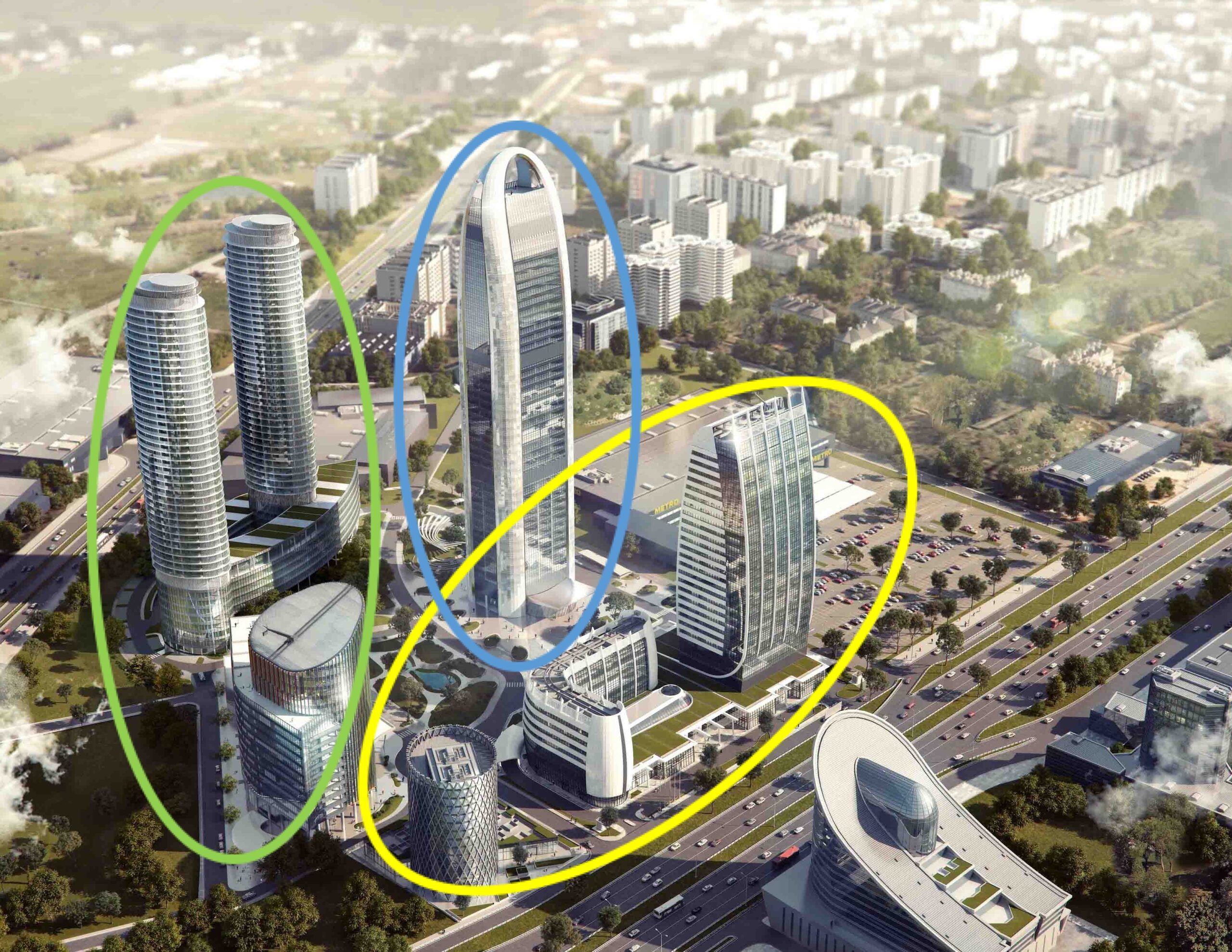 The entire project for construction of a "business city" with the highest buildings in Sofia, located on a plot of 57,000 sq.m.
The project is divided into several stages:
Stage 1 includes 3 buildings, "Capital Fort" with an area of 80,000 sq.m. – a 126-meter high office tower and a smaller 40-meter high office building are built and functioning as you read this. Capital Fort and the neighboring buildings (circled in yellow in the photo).
Stage 2: "Sky Fort" with an area of 76,000 sq.m. – under construction (circled in green in the photo), representing a 49-story building with a height of 202 meters, where ~ 7000 employees are expected to work and 2000 visitors to be attracted per day. 
The future construction of new office skyscrapers in this area are circled in green in the photo. Thus, the district is being formed as the largest office area in Sofia, which will attract people who will be looking for homes to buy and rent in the area. The crisis of 2008 actually led to the faster development of "Eastern Sofia" (for example, the Mladost 1-4 neighborhoods, Garitage Park and the new business centers), since the migration from the province to the capital in search of more opportunities accelerated and because "Eastern Sofia" and Trakia Highway are the door and entrance for most of the young families living in Sofia.
Here is a little more information about "Iskar" Residential Complex
The residential complex is named after the longest river in Bulgaria – Iskar – which passes near by the eastern part of Sofia.
Investors plan to build a middle-class residential building, with compact apartments, whose final prices are the best on the market. The building will be connected to th city central heating system. French windows will provide maximum natural light in the apartments. Parking will be provided with ground floor garages, above-ground parking spaces and a cost-effective solution for families with more cars, that is: 1 parking space with a platform for 3 cars.
The concept is based on the idea to produce and offer the most affordable prices on the market without pursuing maximum profit, thus attracting long-term customers who want to invest and sell at a profit in this and future projects, as well as young people and families who want to live independently in their own home. The apartments are compact (smaller) as in the western world big cities but the floor planning is so flexible that you can buy 2 apartments and unite them into one big specious apartment with no hustle as the investor will do that for you.
See standard layouts of one-bedroom and two-bedroom apartments: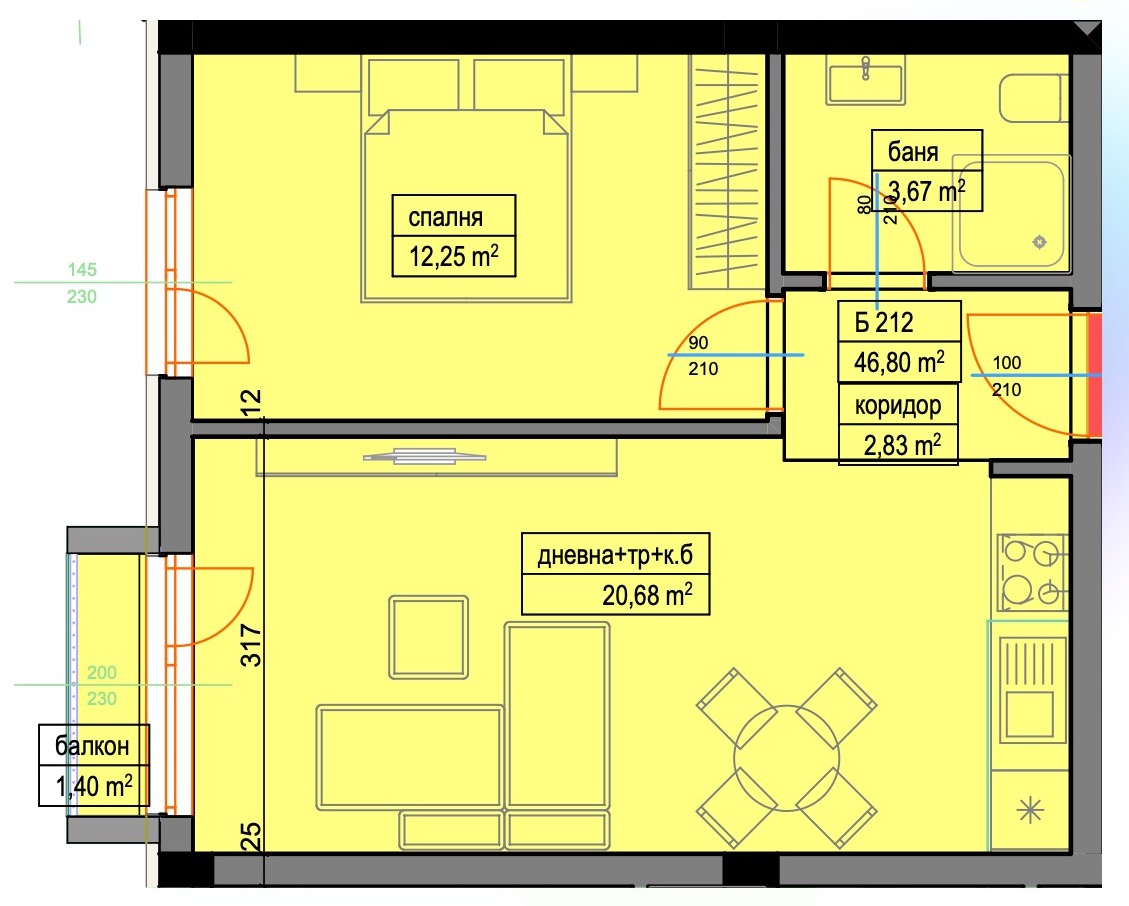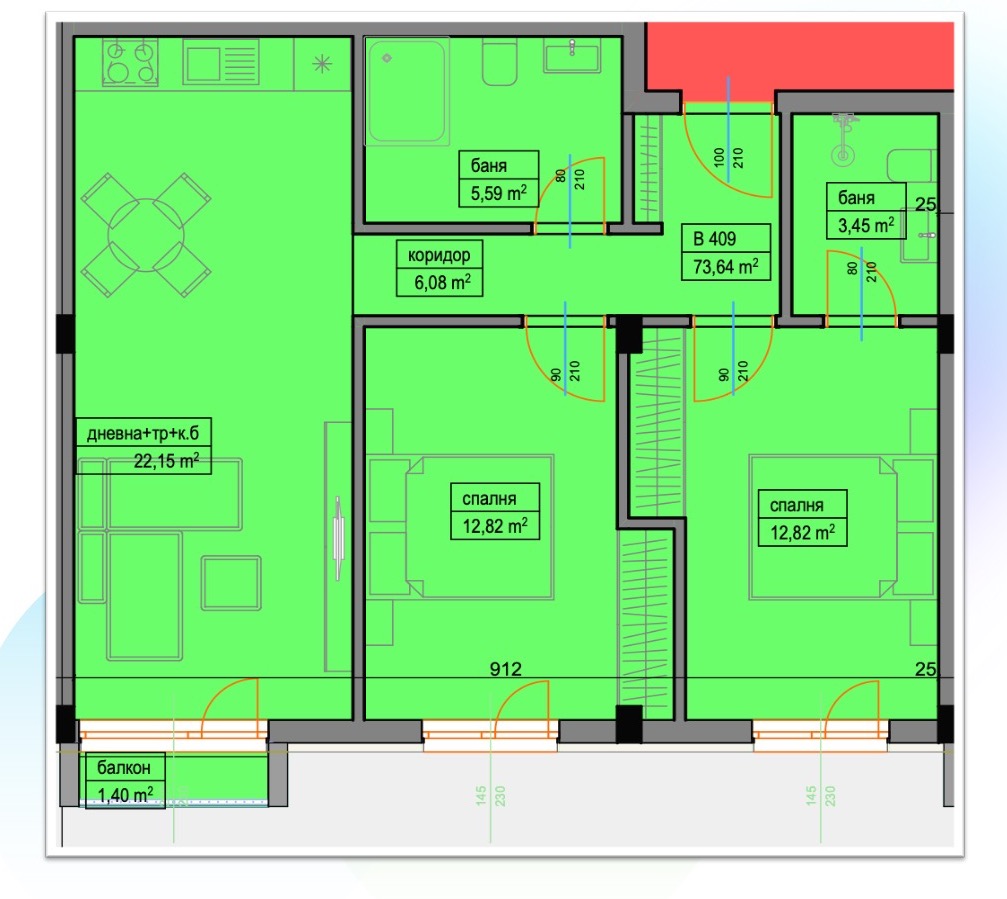 Iskar residential complex: The prices for 1BR (one-bedroom) apartments are from € 39,000 to € 43,000. Prices for 2BR (two-bedroom) apartment are from € 61.00 to € 68,000. Prices calculated per square meter (m2) are from € 730 to € 760 per m2.
The market in Druzhba at the moment: In the next two charts extracted from the most renowned real estate site in Bulgaria, Imot BG, you can see that the average price currently in Druzhba 1 for 1BR (one-bedroom apartment) is € 57,000 or € 946 / m2. The average price for 2BR (two-bedroom) apartment in Druzhba 1 is € 76,000 or € 863 / m2.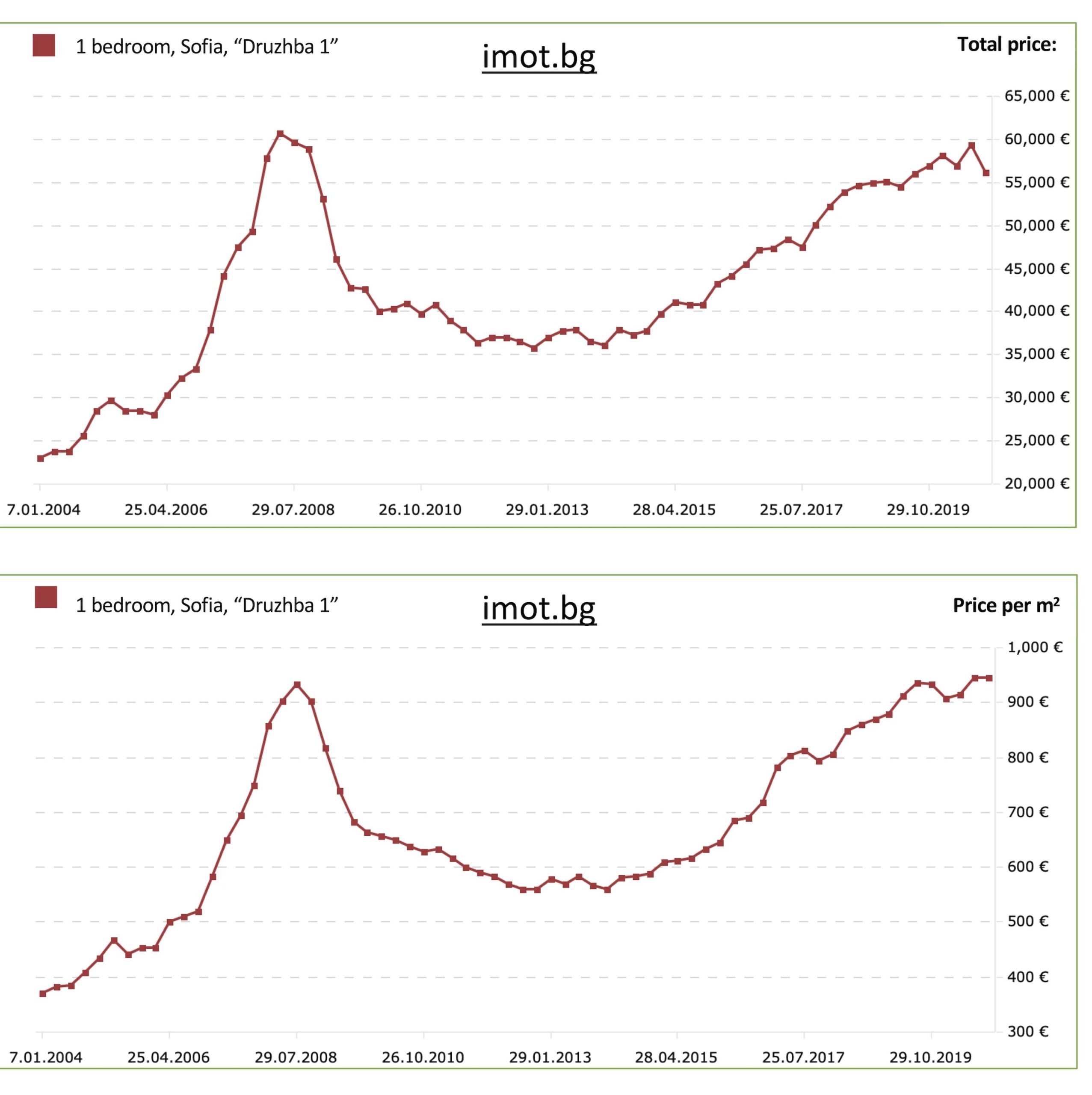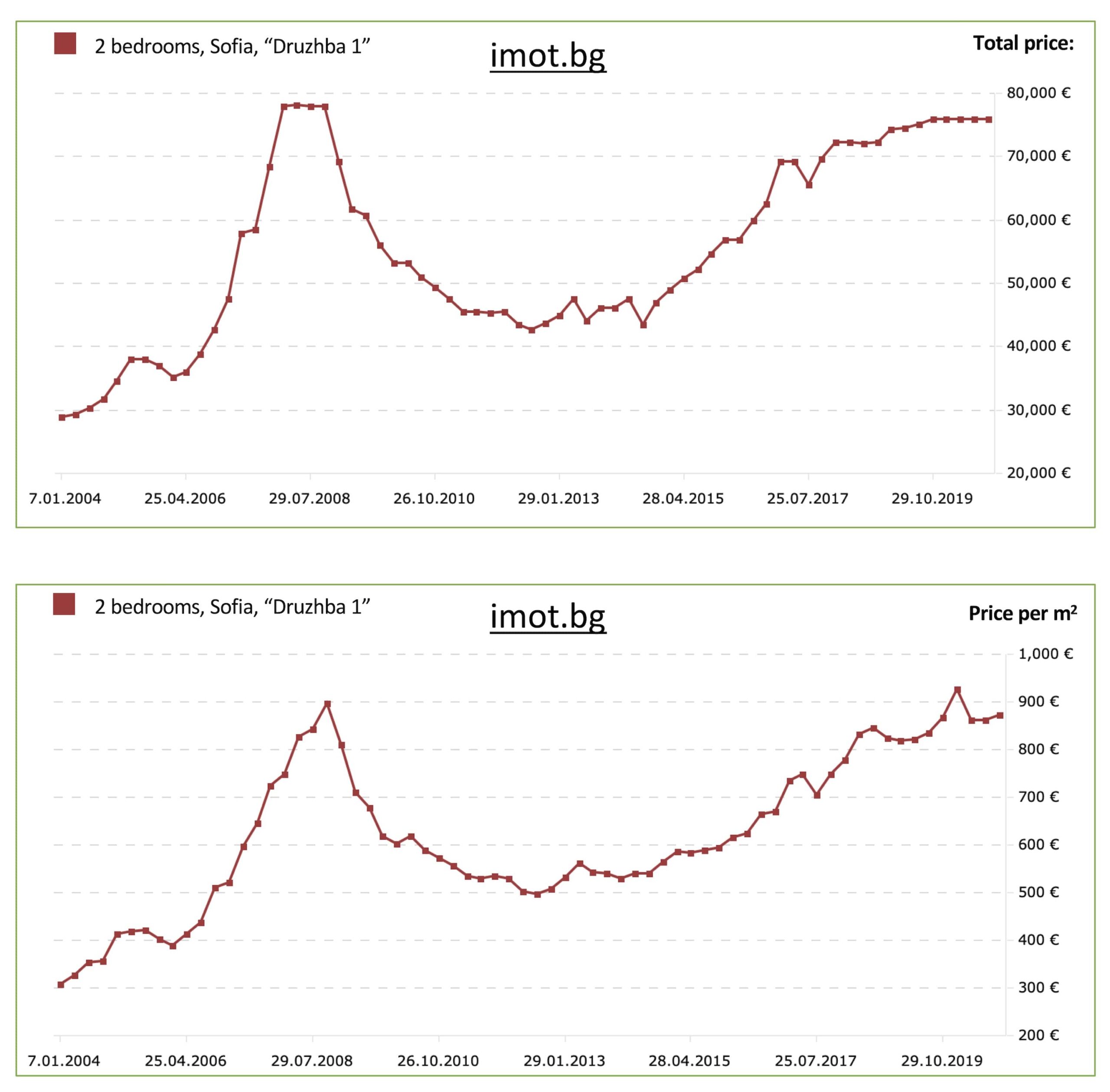 We leave it to you to compare prices and judge. According to our team, this project is one of the best alternatives for investment in today's uncertain times for several reasons:
Prices in "Iskar" residence per m2 compared to current market prices are 17% to 21% lower. Final prices in "Iskar" residence for 1BR and 2BR apartment compared to current market prices are about 20% to 30% lower. This minimizes the risk of loss in a financial and economic crisis in a pessimistic scenario.
Money invested in real estate is protected from inflation and currency depreciation (as has already happened in Bulgaria in the 90's), as well as from other financial cataclysms. Real estate prices have historically always risen in the long run.
Possibility to generate 7% annual rental return under current market conditions.
Possibility for realization of 20% capital gain upon real estate resale after ACT 14 (the phase where the rough construction is ready – before windows, facade and inside finishing).
Possibility to merge 2 apartments into a large 2BR or 3BR family apartment of 115 m2 for a budget of € 80,000 (normally such family homes cost between € 110,000 – € 130,000).
Disclaimer: Delta Analysis Foundation is a registered non-profit legal entity for carrying out public benefit activities. The materials published on the platform are for informational, educational and research purposes only in order to support the mission of the foundation and should not be perceived as specialized advice on real estate transactions. Delta Analytics Foundation is not responsible for the way you use the information contained on the site. Always turn to qualified professionals for financial, legal and other matters according to your specific circumstances and take action based on your informed choice.