In an interview with BNR, Deputy Prime Minister Atanas Pekanov said that "Big investors are already interested in whether decarbonization has been made where they will invest." Pekanov also said that our country is committed to the processes related to the Green Deal, we have already signed and committed to them and we need to start implementing them.
The EU Supreme Court imposed a fine of €500,000 a day on Poland for not closing a large low-quality lignite mine to the Turov TPP and polluting the air in the neighbouring Czech Republic, BGNES said.
While Bulgaria has not yet deposited the Recovery and Sustainability Plan and Poland has been sanctioned, Croatia has already received a first advance contribution of EUR 818 million, which is 13% of the total amount (about EUR 6 billion, EUR 292 million) that the country will receive from the EU. One of the projects in which these funds will be invested is central geothermal heating of karlovac.   The full amount of 818 million euro the first instalment will be invested in Green Projects.
It is already happening, the benefits and sanctions will be seen more and more often, and Europe is on the path to no harmful emissions in 2050. 
Here you can read material on the new requirements for agriculture and how the Green Deal in the EU will also affect agricultural properties. 
The green deal and the changes in the construction and real estate sector that will follow in the European Union
The green deal is imperative because the last train we can catch to transition to regenerative existence, stop air and water poisoning and chance of a normal existence for future generations... the last train is already here.
"Be the change you want to see in the world" said Gandhi, "and the personal example and contribution to a sustainable partnership with nature through consumption is the way that depends not on policies, but on the will of a person. Unfortunately, however, we cannot continue to wait for 8 billion people to light up and realize each other while the mass media engages them in something else.
So even if we don't have full confidence, we need to welcome green policies, because policies and laws are the way to get people to comply, even those who still don't realize and don't believe it's imperative.
As for the properties... the trend is already clearly taking shape. Prices will not fall except for normal temporary adjustments, prices will rise in the long term, especially in places like Bulgaria, where properties are still available to the normal person. The reasons are many, such as the depletion of natural resources and the transition to a circular economy (waste = raw material), decarbonisation targets (zero carbon emissions) and, in general, new green tax policies. The transition to environmental construction with minimal energy losses and minimal pollution = more expensive construction. Future homes and buildings will be much more economical, but their construction during the transition will be more expensive than conventional. The earth won't go down either because they no longer produce it, and humans are multiplying very quickly (7.9 billion at the moment, 2 billion years ago 100 years ago).
The topics that we will address in this article, for which it is worth reading it all the way, are as follows: 
The financial and tax picture that the changes will paint
Circular economy: waste = materials and raw materials
Change in the actions of large investors
on the market is a fact of
Green construction
New green construction technologies and products
Energy revolution: decentralisation in energy production
The financial and tax picture that the changes will paint
Source: Schmidt, Matthias. "ESG Real Estate Insights 2021 | Article #2 European Green Deal What's in There for Real Estate Companies?" Deloitte, Deloitte, Mar. 2021.
The European Union has set itself the objective of being carbon neutral by 2050. In this context, long-term measures have been taken to decarbonise (decarbonise) the European economy. The real estate sector is in focus as buildings are responsible for around 36% of Europe's greenhouse gas emissions. The green deal is strategically linked to the real estate sector and will have a serious impact on business models, financing conditions and market demand.
During the Paris Climate Agreement in 2015, The UN is committed to limiting global warming in the 21st century to less than 2 0 C and, if possible, below 1.50 C. It is also committed to reducing global CO2 (carbondioxide) emissionsby 80-95% by 2050, leading to long-term policies, restrictions and rules to decarbonise the global economy.
The European Union has taken the initiative to be the world'sleading economy, for example, with the start of the reforms being the signing of the European Green Deal and the Sustainable Growth Financing Plan: The aim is to make the EU climate neutral (not to harm the climate) by 2050. To achieve this ambitious target, the first milestone is 2030 and the target of reducing greenhouse gas emissions by 55% compared to 1990. According to a study by the European Commission (EC), buildings are responsible for around 40% of the EU's energy consumption and 36% of greenhouse gas emissions. Other measures will be linked to the mobility, food and chemicals sectors. In order to finance all this, private capital of EUR180-290 billion per year must be redirected towards investments for sustainable growth and sustainable business solutions that reduce carbon emissions.
Overall, the EU pursues 6 main environmental objectives:
Climate change slowdown
Adapting to climate change
Sustainable use and protection of water and marine resources
Transition to a circular economy (reducing waste to a minimum and maximising recycling)
Limiting and controlling pollution
Protection and restoration of biodiversity and ecosystems
In order to meet these objectives, the Ec presented several long-term measures, of which the next ones are tied to the real estate and construction sector: 
European wave of Refurbishment and Renovation
According to the EC, more than 220 million buildings (85% of buildings in the EU) were built before 2001. The EC expects that 85%-95% of existing buildings will now also exist in 2050.  By 2030, 35 million buildings need to be refurbished and refurbished, creating 160,000 more "green jobs."
Tax policy for European sustainable finance
Companies in the real estate and construction sector will have to prepare non-financial statements in accordance with the non-financial reporting directives. They will have to announce the proportions of turnover (capital and operating costs) derived from construction, renovation and repairs, acquisition and ownership of buildings that contribute significantly to the mitigation or worsening of climate change. It is therefore necessary to meet the demanding criteria in terms of energy needs, energy efficiency and passivity, as well as the overall effect on global warming throughout the life cycle of the building.
Moreover, the measures and decisions taken to meet these standards must not adverselyaffect or adversely affect any of the other 5 environmental objectives , nor on the safety of workers and their human rights. In addition to energy efficiency targets, construction companies will be obliged to meet ambitious water consumption targets, a circular economy (at least 70% of safebuilding waste and demolition waste must be prepared for reuse, recycling and recovery of other materials ) as well as pollution targets. These disclosures on turnover, capital expenditures and operating expenses will be essential for investors in real estate companies to structure their investment decisions and as the basis for their own tax reporting obligations in relation to the Sustainable Finance Disclosure Regulation. In addition, the SDFR tax reporting criteria are at the heart of the EU green bond standard.
EU Non-Financial Reporting Directive
The Directive is currently being revised. The new rules are expected to apply from the financial year of 2023 onwards to companies with 500+ employees. The Commission seeks to increase the scope of companies that need to prepare non-financial statements in relation to the Directive.
CHANGE IN THE ACTIONS OF LARGE INVESTORS
THE MARKET IS A FACT
Source: "Shareholders Are Getting Serious About Sustainability." Harvard Business Review, 24 Nov. 2020, hbr.org/2019/05/the-investor-revolution.
The investor revolution is a fact. Large shareholders are becoming more serious about sustainability, eco-compliance and climate change.
ESG (Environmental, social, and governance – Environment, Social, Governance) standards and problems related to them until recently were not among the priorities for investors. But in recent years, institutional investors and pension funds have become so large that they can't help but take a stand on climate change and think about the effect of their portfolio of investments on the environment because their clients are interested in it.
An analysis of interviews with 70 executives at 43 global institutional investor companies concludes that ESG standards are becoming a priority for these leaders and shareholders will soon hold corporations accountable for compliance with ESG standards.
An example of sustainable investment worth sharing is the strategy developed by Mats Anderson (former AP4 Director), Patrick Bolton (Columbia University Professor) and Frederick Samama (Head of Amundi Asset Management). The strategy allows long-term passive investors to insure themselves against climate risk without sacrificing yield. The strategy is based on building a portfolio of companies whose carbon footprint is 50% smaller than average and use 50% less "lagging assets" (such as fossil fuels that have become inefficient or obsolete as a result of legislation, reduced demand or other factors). This model, described in the Financial Analysts Journal article under the name "Climate Risk Insurance", is used by AP4, CalSTRS, the General Pension Fund of New York State, the New Zealand Pension Fund and many others. Today, about $50 billion in assets are managed under this strategy, and those assets and requirements for climate-pleasing companies are growing every day. Thus, investors' money will dictate the change in entrepreneurs and corporations.
An ocean of changes is occurring in ways investors will value the companies, buildings or assets in which a fund invests. When exactly will be the turning point that will fundamentally change business and the economy, it cannot be said.
Large corporations, office buildings, factories whose shares are owned by large passive asset managers and pension funds will feel the change first. But it won't be long before mid-level businesses also start complying with these rules. All companies need to see the opportunities in these structural changes to partner with their investors who are willing to reward them for the long-term value that companies will create for society as a whole.
Already, large international funds do NOT invest in buildings that are not WELL, BREEAM or LEED certified standards to assess the impact of buildings on the nature and health of the people who inhabit them.
GREEN CONSTRUCTION
Sources: Team, StoneCycling. "Circular Economy in Construction Industry." StoneCycling®, StoneCycling®, 11 May 2021, www.stonecycling.com/news/circular-economy-in-construction-industry.
What are the main problems of today's economy?
Depletion of natural capital
Growth in the global economy is fueled by the increased use of raw materials and natural resources. Natural capital is transforming into other types of capital – but we are growing so large, so fast, which rapidly depletes the same natural resources that provide this large-scale growth.
Disposal culture
People in most of the world have developed a "culture of disposal and substitution" with a new one: we make it as cheap as possible at the expense of exploiting natural resources, using, disposing of. This linear economy is simply not sustainable and the bill is paid by nature and subsequent generations. It is already known that in the ocean currents have collected the plastic in one place the size of France. Plastic breaks down into fine particles, gets into the fish, falls into the clouds through the fumes of the water and returns to us trampled through the rains and the food we eat.
A UN study concludes that two-thirds of land pollution comes from unreasonable use of materials, and one-third from wrong and excess energy use.
You must have heard that our society lives quite unsustainably, so we feel more noticeably climate change, lack of resources, loss of biodiversity, dirty air and water, etc. Thus, the pile of rubbish that is fast accumulating our consumer society will grow to a staggering 3.4 billion tonnes a year (currently 2.01 billion tonnes a year) in 2050 (source: World Bank).
Modern economists believe that it is the circular economy that is the solution.
Purpose of circular kkonomics in construction: Waste = Raw material
The circular economy is based on the principles of:
waste = raw material
repair/recycle and reus
The aim is to minimise the explosion of natural resources and raw materials and waste. This is achieved by restoring and repairing products and materials as far as possible, systematically, over and over again.
The Circular Economy Action Plan will lead the transition across all sectors, with high-resource sectors such as the construction sector in focus. In addition to the construction and repair works using significant amounts of energy and mineral resources (sand, gravel, cement), buildings are responsible for 40% of the energy used, mainly for lighting, heating and cooling.
It is clear to all of us that in order to decarbonize the production of any product, it is necessary to use mainly renewable sources and clean energy (solar, wind, water, geothermal, hydrogen, etc.) In addition, investment is needed to develop environmentally friendly new technologies, as well as to renovate and repair as many old buildings as possible, to become energy efficient.
Sustainable Products Policy
In addition to the production of renewable and clean energy, as well as the modernisation of buildings to make them energy efficient, the Green Deal envisages the introduction of a "Sustainable Products Policy" as an integral part of the circular economy. The reuse of materials before recycling will be a priority, which will minimise garbage disposal – this will be achieved through financial incentives and taxes. It will give way to new business models and set minimum requirements to protect the European market from products that pollute nature. The responsibility of producers will be more serious.
This policy has a chance to reduce garbage significantly. The European Commission is considering legal requirements to push the market for aggregates and the production of new products to be required to use a certain amount of recycled materials (e.g. in packaging, vehicles, building materials and batteries).
In addition, the EC will examine and revise the Construction Products Regulation (CPR) to ensure synchronisation between the needs of the circular economy and the design of new or the renovation of old buildings in all its stages. The aim is to achieve climate-protected energy-efficient buildings with minimal waste and environmental pollution.
The concept "BAMB" (Buildings as Material Banks – Buildings as a Material Bank)
The "BAMB" conpation is actually a practical application of the ideas of circular design in construction. The document, which is used throughout the construction process and is the basis for the approval of a building as a "Material Passport Bank" is the so-called "Material Passport".
This new standard leads to a number of innovations in construction and gives a number of benefits:
Increase the capital value of the building and the profit – when on a given day its life cycle is over, the building is not demolished and used at the landfill, but disassembled and invested materials can be sold and used in a new project.
Reducing the exploitation of natural resources
Creates new jobs
Significantly improves the measurement of the progress of a project
In order for all this not to seem to be another theory, we will share a bright example of the construction of the principles of the circular economy.
Park 20|20 realized by Delta Development in the Netherlands is the world's first "Cradle to Cradle (C2C)" (from Cradle to Cradle) business park, built with 100% recycled materials that can be used again in the future to build other buildings when the life cycle of the buildings is over and reconstruction is needed.
William McDonough's Park (which is one of the creators of the Cradle to Cradle concept) combines innovation with sustainable design, uses an optimal ecological approach and works with closed energy and water systems. At the heart of the whole approach is human well-being today and in the future.
The three main principles in the Cradle to Cradle methodology are:
Nutrients (for man, plants and building as an organism) remain nutrients:

Park 20|20 has a centralized system for collecting and using the "waste water" again and again, such as the water from the sinks being collected and reused in the toilets. Reverse logistics of building materials – from the user goes back to the manufacturer for subsequent use. Greenhouses for food production, program for composting organic materials and turning them into humos, a nutrient management program necessary for plants. Dismantling design.

Use of renewable energy:

Centralized system for storage of heating and cooling energy, production of energy from renewable sources, interior and exterior design oriented towards the movement of the sun and light.

Stimulating diversity: Biodiversity in

the form of green living roofs, different types of vegetation. Diversity in design and concepts to serve cultural and social diversity.
Examples of certain products in construction that can be recycled, reused in construction or used as a source of energy.
Source: "10 Eco Building Materials Revolutionizing Home Construction." Elemental Green, 19 Apr. 2016, elemental.green/10-eco-building-materials-revolutionizing-home-construction/.
According to World Green Building Trends from Dodge Data & Analytics, green construction is now a global trend and energy efficiency is now a top priority for people worldwide.
A renaissance of natural materials. The change is driven by consumer requirements as well as environmental regulations in construction. This trend also strengthens the sector of production of innovative green building materials. Here are some of them:
HEMP CONCRETE,hemp bricks / building blocks and hemp insulation (Hempcrete – comes from concrete, which in English means concrete)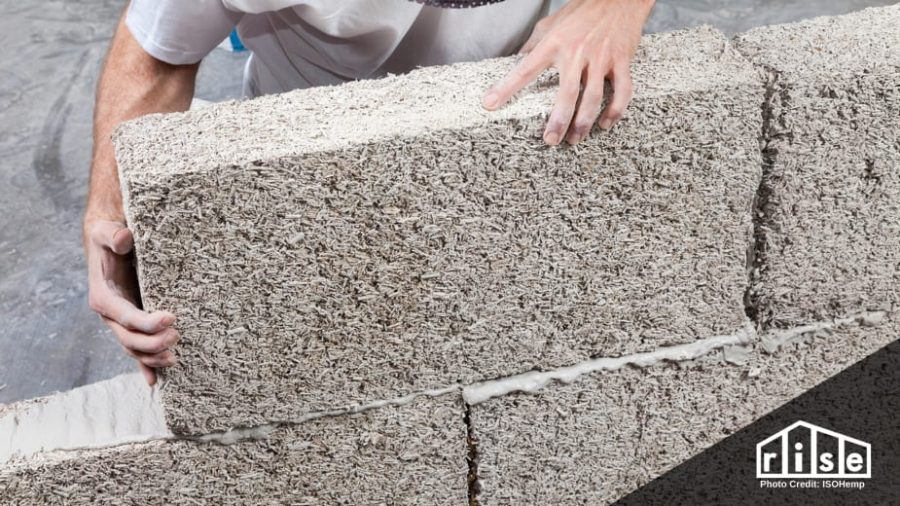 Industrial hemp in construction has been used since 1990, not just carbon neutral, but carbon negative – while hemp grows sucks carbon emissions from the air – if a home is built of hemp concrete, it will save the discharge of about 9 tons of carbon dioxide into the air. Hemp is one of the fastest growing plants in the world and fertilizers, pesticides and herbicides are not used for its cultivation. It weighs less, has very good insulating qualities, and it copes very well with moisture and is refractory. The only minus is that water is needed for hemp cultivation, but water needs are much lower than other plants (it relies mainly on rains) and no heat is needed in the production process.
Hemp fibers are extremely strong – studies show that buildings built with hemp concrete are 3 times more resistant to earthquakes. Other studies have shown that hemp fibres do not give way to steel, even in some aspects they are healthier ( "A Study in Physical and Mechanical Properties of Hemp Fibres" ).
On June 19, 2017, CNBC aired an episode of the show "Jay Leno's Garage." In the episode, Leno tests a sports car called Renew. The car is specially made for Bruce Dietzen (former dell director) from 46 kg. hemp fiber (fiber). Both Leno and Dietzen hit a few fists on the car, but only their hands got hurt, with no sign of the car. According to the owner, the hemp car is 10 times stronger than normal tin cars, which bend when hit or pressured by hand.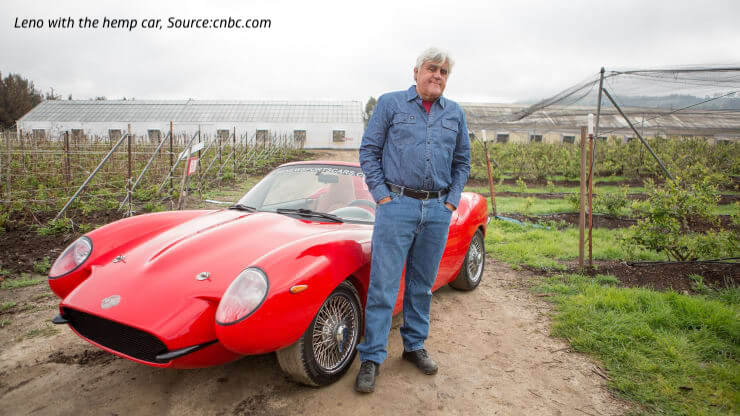 BAMBOO – the best alternative to wood
Although it looks like a tree, bamboo belongs to the family of grasses, which means that bamboo grows and recovers much faster than trees. Bamboo is one of the fastest growing plants in the world depending on variety and climate, sometimes growth reaches up to 90 cm. a day!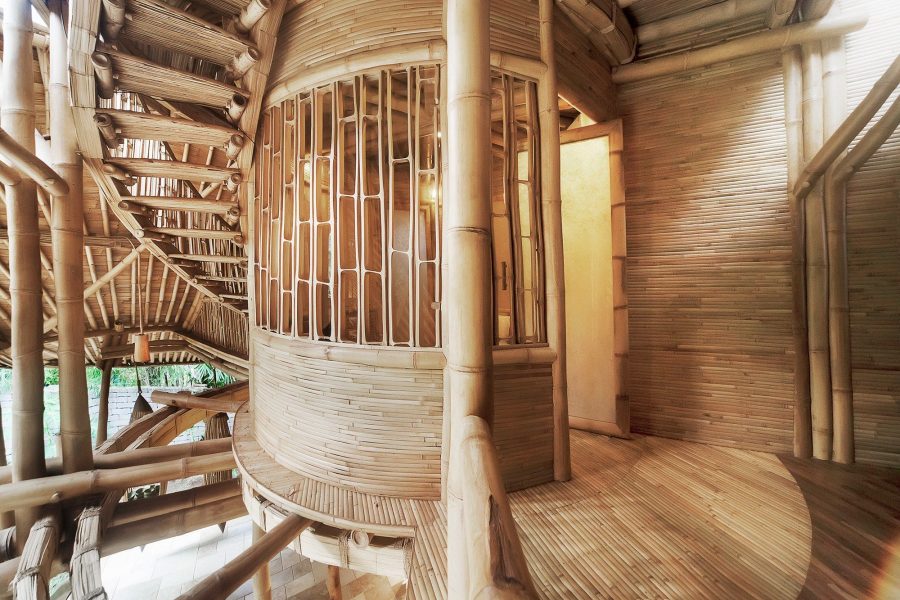 The cycle of regeneration of bamboo plantations is 3 years (every 3 years I can cut and plant new ones), while the trees are from 25 to 50 years old.
The applications of bamboo are in the manufacture of tiles, countertops, upholstery, laminate, decking, etc. Flooring.
Wool insulation is 10% better than glass wool and can also absorb, retain and release moisture while retaining its insulating qualities. Also, natural wool is resistant to fire, has noise insulation qualities, absorbs harmful chemicals from the air such as formaldehyde, nitric oxide and sulfur dioxide. On top of that, she's biodegradable at the end of her life.
SIP (STRUCTURAL INSULATED PANELS)Panels or also known as "Sandwich Panels"
SIP (Sandwich) panels are one of the best building systems in terms of insulation and airtightness (for passive houses). They are produced from OSB boards between which there is eps (styrofoam). OSB boards are made from pressed wood residues and resin, and those with an FSC certificate have timber from sustainably managed forests. EPS (styrofoam) is an environmentally friendly product that is straight from 98% air, free of toxic chemicals and is 100% recyclable.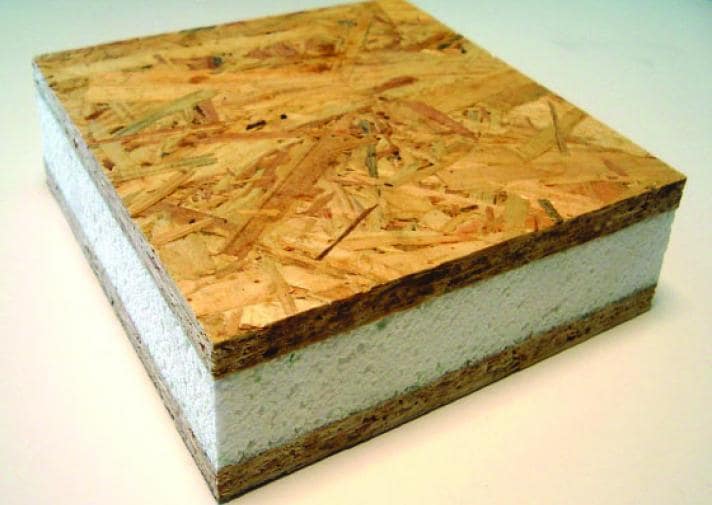 The three main advantages are: 1) best insulation qualities (cold, moisture, etc.), which is why they are used for the construction of passive houses; 2) fast construction, literally making ready-made whole walls; 3) low cost and long life.
Insulation and building blocks of mushrooms ... yes, mushrooms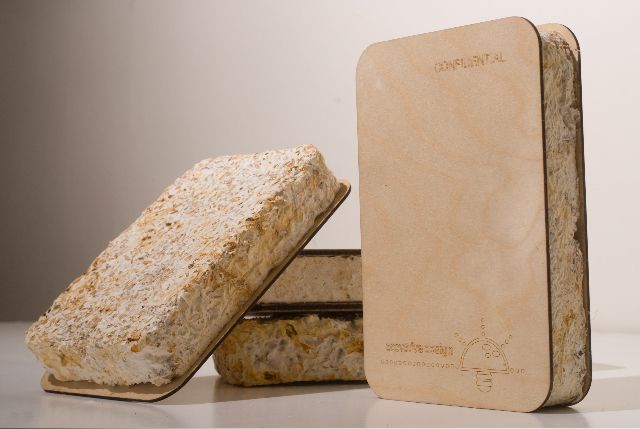 Mushrooms can be grown without sunlight, underground or under solar panels, they are edible, and from their roots (from mycelium) building materials are made. Mycelium converts hydrocarbons into carbohydrate chains. These chains seal and wrap around everything that stands in their way and turn organic waste from food, wood and any agricultural crops into building materials. In addition, the materials become extremely strong and can be used for building blocks or finished walls, have better insulating qualities than glass wool and are completely biodegradable and can be turned into compost during processing.
Similar materials that press to say wood waste and turn them into boards (chipboards) and other boards often contain formaldehyde and other harmful chemicals – construction products of mycelium are produced without any toxic chemicals.
Products of wood from sustainably managed forests
Everyone knows about timber, not something new, and is it harmful to nature to use it?  In fact, it is destructive to nature, land, water, air, animals and man is the mass felling of forests. But sustainable forest management, controlled clearing and felling of old trees, ordering lush young trees and similar practices support the sustainable development and resumption of the forest, while at the same time there is enough for humans.
Let's not forget that trees suck carbon dioxide out of the atmosphere throughout their lives, so that wood material is environmentally friendly and sustainable forest management leads to not disturbing eco-equilibrium while at the same time being able to use one of the most beautiful natural building materials.
Proof of origin of wood from sustainably managed forests is the FSC certificate (Forest Stewardship Council – Forest Management Council).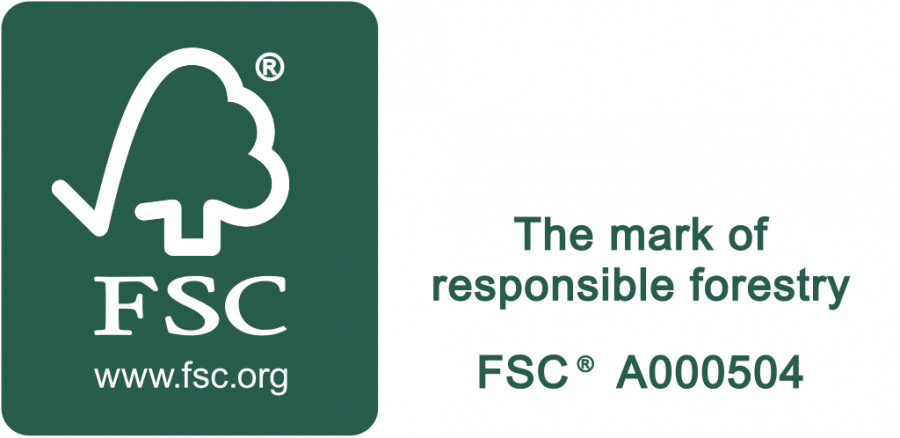 Wood bark lining – durable, natural, beautiful
Sustainable use of wood has reached new highs after the bark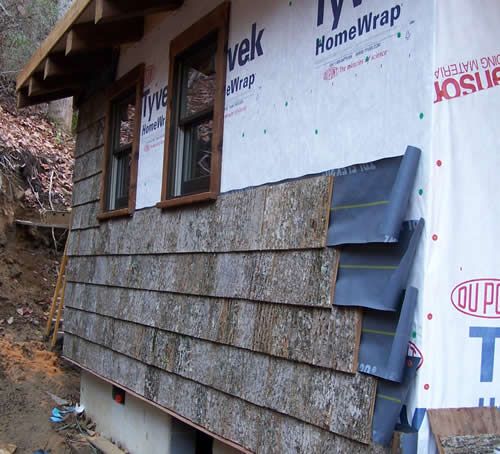 is used as a building material for facades and roofs with high added value. Wood bark comes from trees that are already cut and is a side material (do not cut trees specifically to make), which was previously used for pellets, garden mulch, etc.
Wood bark enclosure can last from 75 to 100 years without painting, compacting and without regular maintenance. The fact that paint is not used means that there are no excess chemicals in the production process. After being separated from the cut tree, the bark is dried in an oven to sterilize against fungi and insects.
There is already an ecological alternative to the use of toxic methods of processing wood. The process of treatment with acetyl creates a product that is resistant to decay, with improved insulation qualities, better strength and longer life. Acetyl is also used in medicines and is harmless to humans, and products treated with it are certified as non-toxic.
Materials of pressed wood mass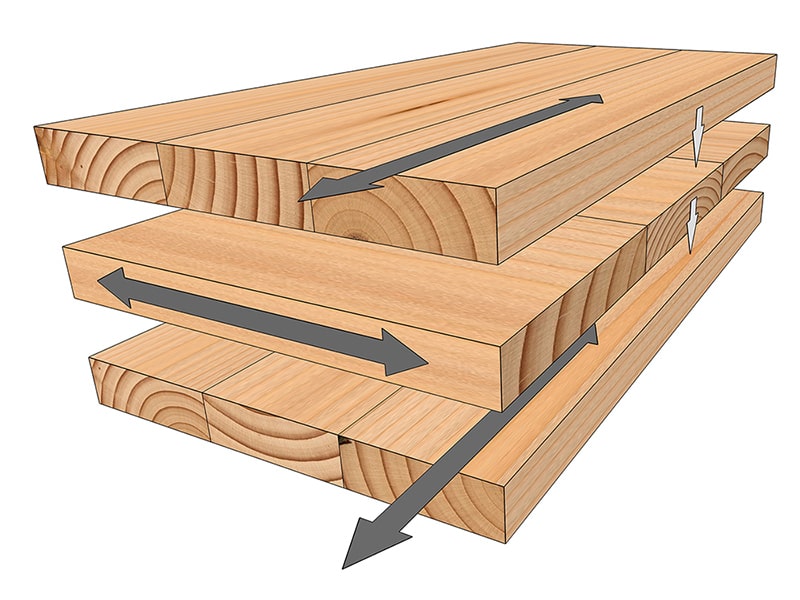 Cross-laminated timber (CLT) and glued laminated timber (Glulam) are increasingly used instead of steel or concrete. Through CLT technology, smaller pieces of wood are glued together in layers that are perpendicular to each other.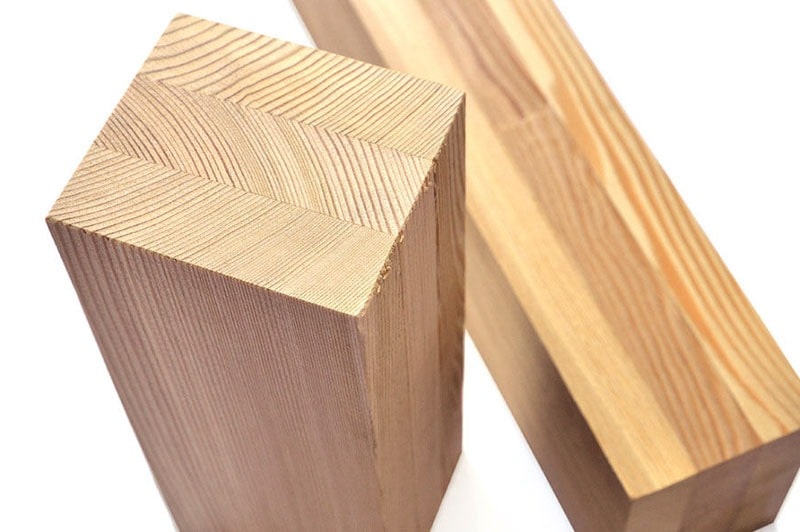 "Glulam" technology positions the wooden pieces parallel to the length of the final material. These techniques lead to the production of wood material with very convincing qualities.
These materials are produced sustainably – compared to steel and concrete, the production of which has high carbon dioxide emissions. Also, CLT technology makes it possible to use small pieces of wood that would otherwise become a marriage.
They are healthy – the ratio between strength and weight is very good. Materials of pressed wooden table have better indicators for buildings in seismic zones, and even skyscrapers of such materials are already made.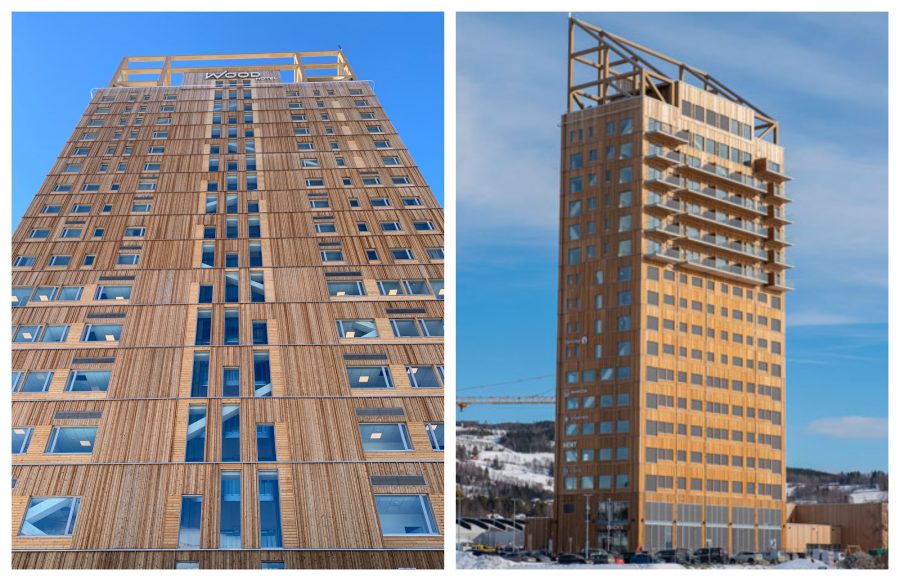 Resistant to fire and fire – when exposed to fire, charcoal on the outside of the massive timber forms an insulating layer that protects the inner wood from damage. This allows it to retain support even in case of fire.
Изгодни – buildings made of materials from pressed wood mass are built faster than concrete buildings, because the elements of the building are produced in advance.
Air purifying decorations for walls
You probably already know about air filters and specific plants that purify the air in the home and office, but did you know that the way you dress the walls can have a serious effect on the air? In addition to purifying the air from pollutants, these peculiar decorations can help reduce energy needs, because you will not need to use an electric air purifier. Here are a few examples of similar wall decorations: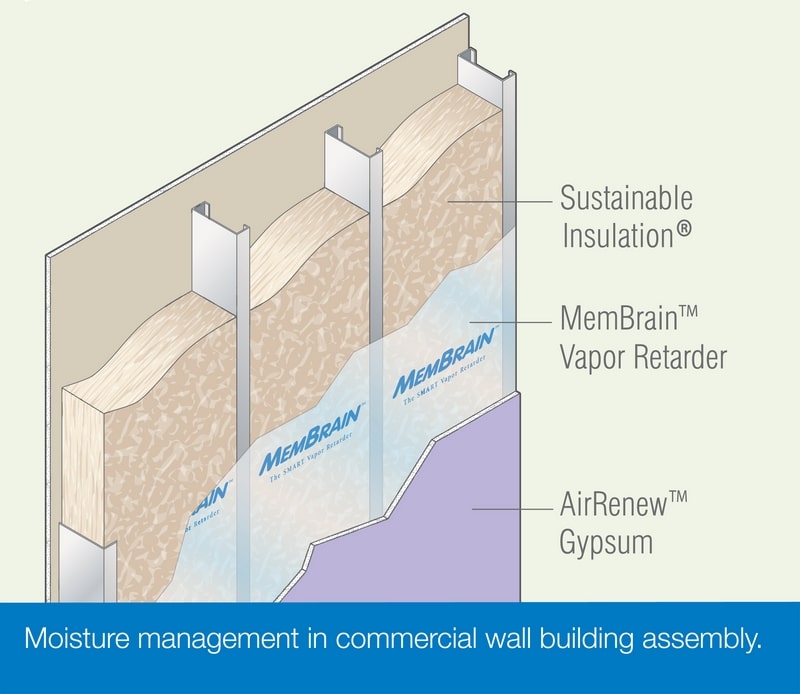 Air-purging drywall
Drywall is used in almost every home and office, both in Bulgaria and around the world. But nowadays, some companies (such as CertainTeed ) produce drywall that absorbs formaldehyde and turns it into an inertly joined one that no longer spreads through the air. This type of drywall is suitable for both new constructions and repairs, not dropping any VOC (Volatile Organic Compounds) while neutralizing formaldehyde for better air quality in the premises.
Air purging paints
ECOS Paints, for example, do not emit VOC (Volatile Organic Compounds), do not contain polyurethane (which is widely used in paints), which causes headaches and respiratory problems. In addition, the manufacturer's air-purifier paint has a new VOC absorption technology that absorbs and neutralizes chemicals and pollutants for better air quality at home.
How's he doing it? In its composition, this wondrous paint contains a molecular syllable designed to absorb a target group of Volatile Organic Compounds (VOC), in English. VOC) from the air. The syto (non-toxic crystal tubes) is of a size that allows small molecules such as nitrogen or oxygen to pass unhindered, while larger molecules (organic compounds) fall into a trap.
Volcanic soil putty: Shirasu Kabe from HABITUS
This is a more luxurious material for our latitudes, as it is made from volcanic soil in Japan and is putty/plaster for wall finishing. It has been proven to purify the air in the room due to the content of natural organic ceramic magma. It also controls humidity by extracting moisture from the air when levels are high and releases moisture when levels in the air are lower.
Cleaning air wallpapers
Roos international produces wallpaper that absorbs and retains permanently about 70% of aldehydes and other common toxins in the air. The technology is patented and allows application of even several layers of paint on top, as the paints are porous and miss.
Living or green roofs consist of a waterproof membrane, soil and live plants. What are the advantages?
Average life of 40 years (if installed as needed)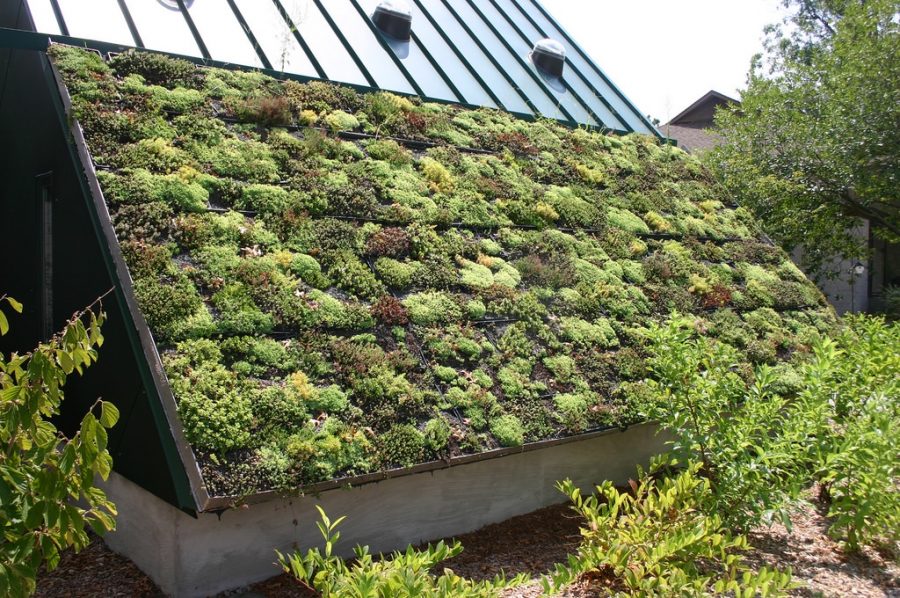 Insulation – studies show that in the summer the green roof reduces the loss of cool air from the premises by 70-90% and accordingly significantly reduces cooling bills in hotter areas. During the cold months, the green roof reduces heat losses by 72%.
Better air – in addition to reducing energy needs for cooling and warming of the home and therefore carbon emissions for energy production, green roofs and plants that live on them absorb CO2   and other air pollutants.
Soundproofing – studies show that green living roofs are serious noise insulators and can reduce noise by 40-60 decibels.
It increases the value of the property – the energy efficiency that this solution brings increases the value of the property because the green living roofs are distinctive and the trend for green construction is becoming more serious all over the world. For these reasons, a green living roof can help sell at a higher price or find longer-term tenants.
LEED – according to the global standard for sustainable, energy efficient and environmentally friendly construction, the installation of a green living roof can add 15 LEED loans to the property, which distinguishes it and makes it even more interesting for both buyers and tenants and international investment companies. Moreover, the green living roof helps to restore biodiversity and natural balance in the urban jungle.
You don't have to punch the roof and put in solar panels if you don't like what it looks like. As you have already heard, solar tiles are already produced, which look very beautiful, and are extremely healthy. In the US, the construction of rooftops with solar tiles is subsidised by the state and is highly likely to happen in the EU.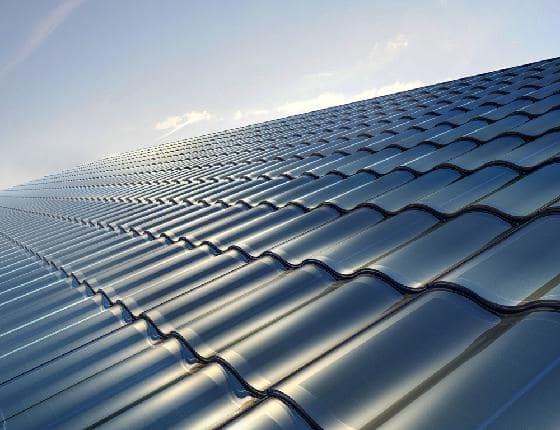 Source: Solar Panel Windows Achieve Record-Breaking Energy Efficiency." The Independent, Independent Digital News and Media, 18 Aug. 2020, www.independent.co.uk/life-style/gadgets-and-tech/news/solar-power-window-transparent-renewable-energy-a9675961.html.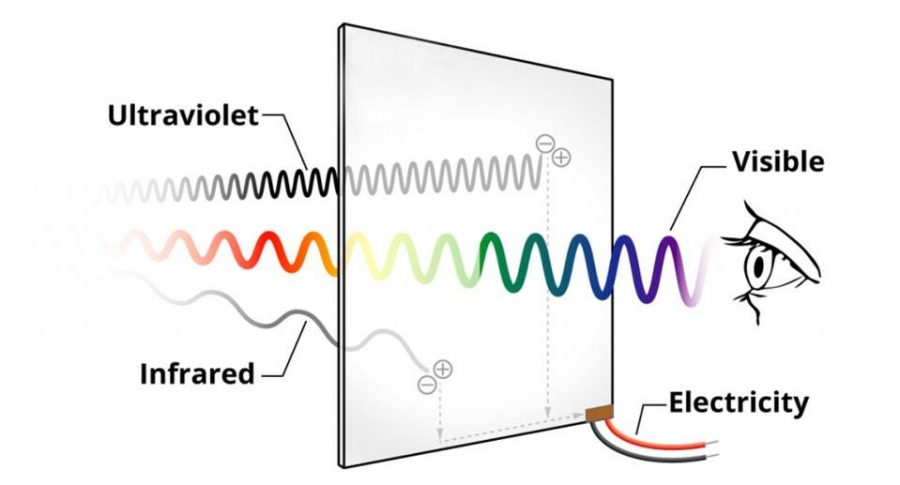 Researchers achieved a record in efficiency in developing transparent solar cells, paving the way for skyscrapers and office buildings to become pro-terminals of environmentally friendly energy.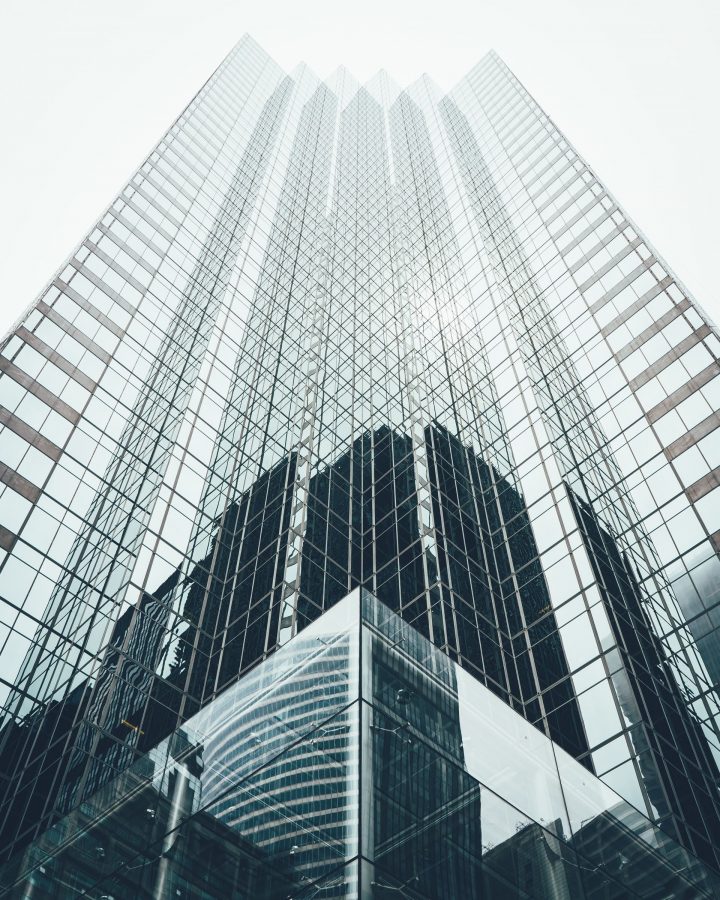 A team from the University of Michigan used a design made of organic, carbon materials to transform sunlight into electricity with an efficiency of 8.1% while preserving the permeability and transparency needed for windows.
Known commercially used solar cells, which are made of silicon, have an efficiency of 14 to 19% in transforming sunlight into electricity.
The project manager, Prof . Stephen Forrest said: "The windows of each building are the ideal location for organic solar cells because they offer something that silicon solar cells can't, namely a combination of high efficiency and transparency."
The transparency that these cells currently have is 43.3%, making them similar to the transparency of skyscraper windows.
SolarWindow Technologies offers window covering that does the same job and doesn't need to change windows, but simply foil like a car window.
Energy revolution: Decentralisation in energy production
This is not building material, but buildings in general can play the role of new ERPs and it is worth including it in this material. Consumers can now produce their own energy from renewable natural sources, and even sell the surplus to their neighbors.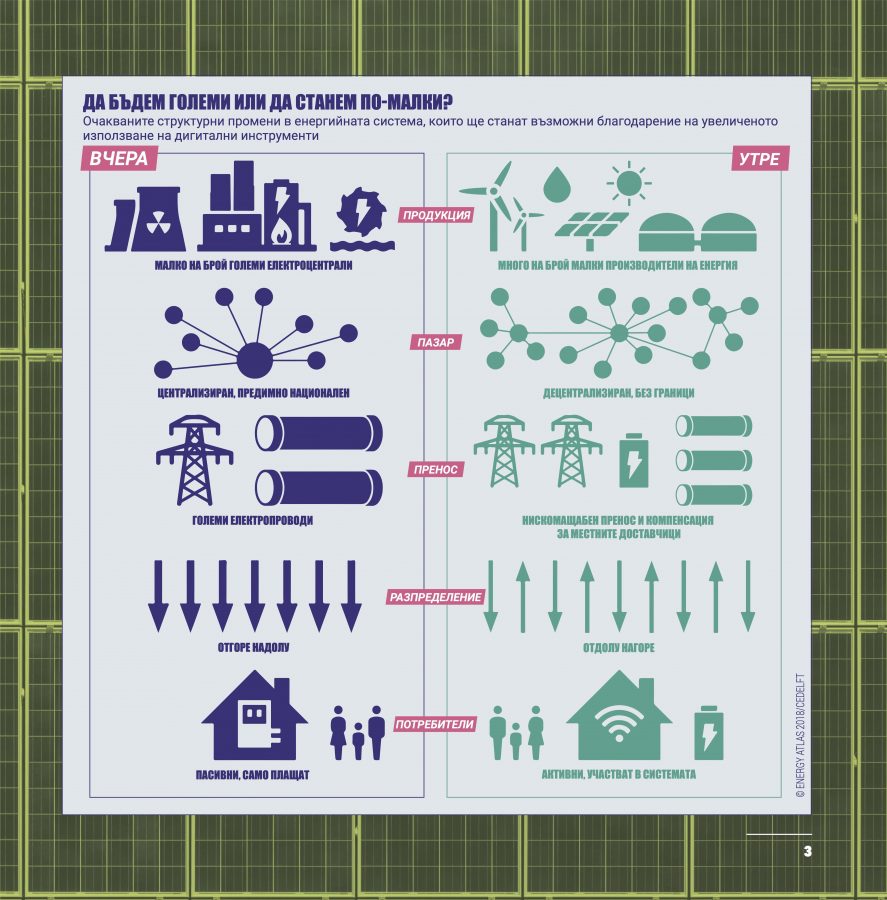 Already a number of factories in Bulgaria install solar panels on the roofs of their buildings and thus produce much of the electricity needed.
In addition, more than 1 million European citizens are already producing electricity themselves, according to Ignacio Navarro, head of the Greenpeace project European Energy Transition.
And another example of a village in India (there are other such communities) that does not have access to electricity and no centralized electricity grid is built, there is no other alternative. A young entrepreneur solves the problem by building a decentralized system with solar panels + battery + controller in each hut (this is what homes look like there), each connected by cables with their neighbor. So where there is an excess of electricity can be sold to a neighbor in the village who needs more at the moment. That way, trade, and money stays inside the community.
Energy communities are associations of citizens or public-private associations in which people produce their own energy for personal use and to power the grid with electricity from renewable energy when there are surpluses.
In Bulgaria, there are still legislative and administrative barriers for more households to become independent producers of electricity through renewable energy sources, but a pan-European directive has already been adopted that entitles citizens to produce their own energy. It is inevitable that this will happen in Bulgaria.
According to a material published on 16.03.2021 by Dorothya Nikolova in BNR, 21 municipalities and two regional town halls from all over Bulgaria have signed the open letter initiated by Greenpeace – Bulgaria, with requests for strategic support and legal amendments to facilitate the creation of the country's first energy communities.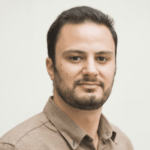 Author: Thomas Staykov
0877 355 178
investors@delta3analizi.com
Disclaimer: Delta Analytics Foundation is a registered non-profit legal entity for the performance of public benefit activities. The materials published on the platform are for informational, educational and research purposes only in order to support the mission of the foundation and should not be perceived as specialized advice on real estate transactions. Delta Analysis Foundation is not responsible for the way you use the information contained on the site. Always turn to qualified professionals for financial, legal and other matters according to your specific circumstances and take action based on your informed choices.
If only property prices had risen rapidly in the last year and a half, then the talk of starting a property bubble would have been quite...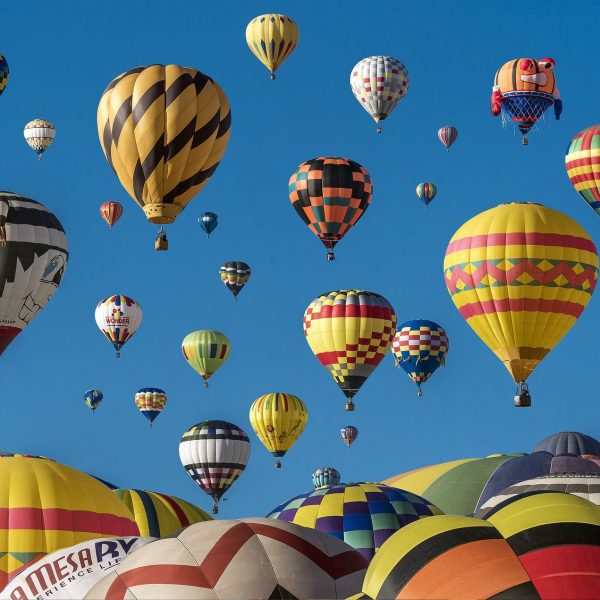 Modern industrial agriculture emits 27% of greenhouse gases into the atmosphere (the 2nd largest pollutant after the industry) and at the same time can be the key to absorbing...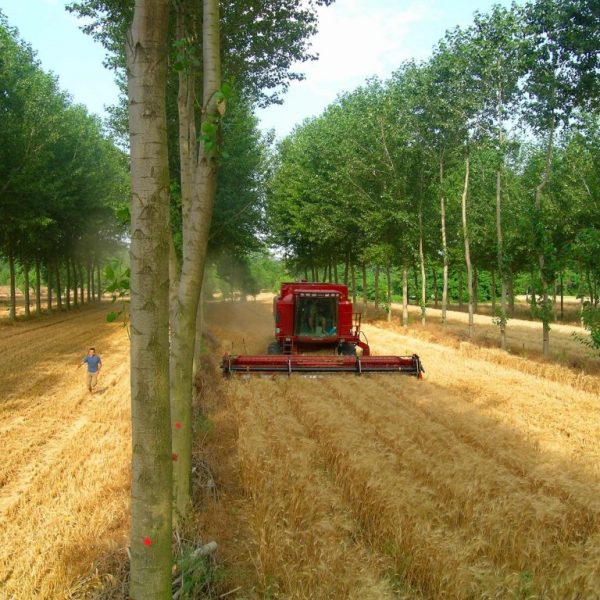 TAGS: The Green Deal and Properties, Green Deal and Properties, Green Deal and Properties, Green Deal and Properties, Green Deal and Properties, Green Deal and Properties
The Green Deal and The Properties
The Green Deal and The Properties
The Green Deal and The Properties